Welcome to Match Racing DVD
Welcome to Match Racing DVD Available
FREE
this Summer at
NorthU.com
.
North U. is set to release a new match racing DVD called Welcome To Match Racing and will give away the first 1,000 copies free of charge. Hosted by three-time U.S. Match Racing Champion Dave Perry, who is the author of Understanding the Racing Rules of Sailing and the coach of the U.S. Sailing Team AlphaGraphics Women's Match Race Team, this DVD takes viewers through the basics of match racing from start to finish. With a release date set for the beginning of July, a generous donor who wants to expose match racing to as many people as possible in North America has funded the development and free distribution of the DVD.
"We are thrilled to have the opportunity to give away copies of Welcome to Match Racing," said Bill Gladstone, Director of North U. "Dave Perry does an excellent job explaining the basics of match racing and introducing the sport to newcomers. After watching the DVD, viewers will have a better understanding of how to properly match race and how to get involved with match racing," continued Gladstone. "Even for experienced match racers, this video is a great refresher and gives excellent examples of proper tactical decisions and the how's and why's of match racing."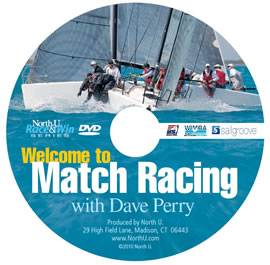 The Welcome to Match Racing DVD covers match racing from start to finish. It begins by covering the three parts of a match race start: entry and initial meeting; middle segment; and final approach. Next, viewers learn about upwind and downwind tactics for both leading and trailing boats, along with mark rounding tactics. Perry also covers the match race umpiring and delayed penalty system.
The curriculum of Welcome to Match Racing is derived from the Women's International Match Racing Association (WIMRA)/North U. Introduction to Match Racing clinics which have been offered worldwide for the past three years. Welcome to Match Racing includes videos from championship match races and animations created by North U. Director Bill Gladstone.
To get a free copy, be one of the first 1,000 people to RSVP on the North U. Web site:
www.NorthU.com
***Note:
The Free DVD is available for shipping in North America Only.
For International Requests please visit www.NorthU.com for further instructions. The cost to receive the DVD internationally is US$20 which includes shipping.
Labels: Match Race